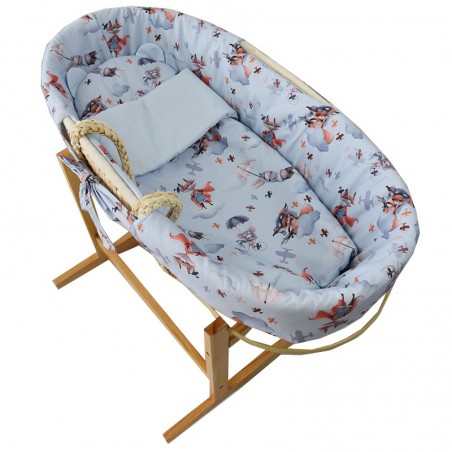  
Mojsejeve košar
INDEX: KOS-01 AVIATOR

Sigurna kupovina

Brza isporuka

Povrat u 14 dana
EKO Moses basket with equipment
The Moses basket was created for parents, who care about their baby's comfort from the first days of life.
Newborns and infants (0m +) can sleep in the basket from birth up to about 5-6 months.


For safety reasons, we do not recommend carrying the basket with your baby inside.
Our basket is equipped with all necessary elements for comfortable use:
•  Basket made by hand from corn husks
•  Foam mattress
•  Mattress sheet made of high-quality jersey cotton
•  Basket as a rocker (baby swing), basket stand made of pine wood with stoppers to block rocking
•  Basket bumper
•  100% cotton pillow and quilt.
The bedding elements are made of digitally printed cotton in accordance with the OEKO-TEX standards. 
Specification:
Basket dimensions: 83x45x25 cm
Material: corn husk
The weight of basket with equipment and stand: 4.30 kg
Total maximal load: 9 kg
The mattress is 3 cm thick
 Bedding elements, i.e. bumper, quilt and pillow made of 100% digitally printed cotton with the OEKO-TEX Standard 100 certificate. Filling: 100% polyester. Washable up to 40 ⁰C.
Basket and stand comply with the standard: EN-NORM: EN1466
Warning:

All warnings can be found in the attached instruction, here we present the most important ones:
• The basket should be used only on a hard, horizontal and dry ground, keep a safe distance from heat sources fire.
• Do not attach any additional elements to the stand, that could affect its stability.
• Do not use the basket on stand, if it is damaged, broken or if it is missing any element.
• Check the tightness of the bolts.
• Do not leave a child in the basket unattended by an adult
•  Do not leave children playing around the basket unattended
• Do not leave in basket any elements (packaging, bags, wires). There is a risk of suffocation
• Total permissible load: 9 kg
The basket is intended for children from birth up to about 5-6 months. The main criterion for the suitability of the basket is the permissible weight, but above all the child's ability to sit down. A child starting to sit down may not use the basket, because it may fall out !!!
We do not recommend carrying your baby in basket !!!
The set includes manual instruction and a key necessary to screw the stand.
Možda će Vam se i ovo svidjeti